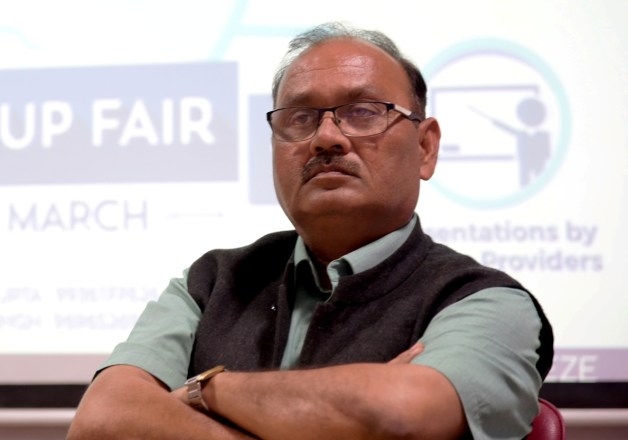 Category: ATE Stories
Published On: Sep 19, 2020
---
Recently, Dr. Pradeep Kumar Mishra, Professor of IIT, BHU was Interviewed by Ayush Keshri.
Pradeep Sir, talking about his struggle, told that when he was young, his father used to have severe health issues, and even on the time of his boards his father was majorly unwell. "I had to study hard, and struggle hard too. But I never let myself think that I will lose. I always considered it as a tough time, which would pass away. But I never felt that I will fail."
He also added he had to face different hardships at the time of his entrance exam. "I was unable to crack IIT at first, but those whom I taught, cracked it. So that single month was quite depressive. But I was fortunate enough to get admission in IT Roorkee, I ultimately cracked it. Then my depression was reduced a bit.
When asked how he fulfilled his increasing responsibilities, he said, "I completed B-tech but I didn't like the job offered at placement. Instead, I came to IIT Bombay, and after completing my masters, Again I got job offers from the Campus, and I gave them a try but I didn't like any of them. I felt it was very monotonous. So, I thought to try my hands in those occupations, which I considered to be very boring, like teaching. I was getting calls from my father too. So, I resigned from the job. And I came back to Banaras. Here I joined for PhD. Now there was another dilemma. On one side, PhD. was going to complete and no Interviews, no jobs were there. I got calls from Bangalore engineering college and many more. It was December 1996 and I gave 5 Interviews together. Most of them connected me and I told all of them that I will join from 1st February 1997"
He further shared an interesting story. " I was having an Interview in Karnataka, and It's nearest railway station was Sholapur, Maharashtra and It was in Karnataka. After giving the Interview, my destination was Manmad. I had to go Sholapur, to catch Karnataka Express in which I had a reservation too. After reaching the station, I got to know the train was derailed. When I asked the local people, they told me that the Bombay state buses can make me reach Manmad. I rode the bus. There I got few boys.so the journey got smoother and better. On the way, the bus stopped for once, as usual, and I remember an old man asking me it was Sai baba temple. That time I didn't know who it was. I told them that I had to catch the train, but he started insisting on me. I was feeling awkward to see such interest. I was trying to pass him over. He said to call at the station, in order to know if the train had left before. When I told him that I didn't have a phone, neither the number, he led out his diary and showed me a booth. I was stunned to see such interest, so I took the number and called at the station, only to be informed that I missed the train. So I got ready to visit the temple. I, the boys, we all went outside the bus, there was a good facility for changing, which was twenty rupees of cost. I visited and only said that I struggled so much to return my home and now, I had to leave again. I only prayed to get the job within 1st February. Miraculously, on returning, I got a call for an interview, and on 1st February 1997, I joined in Department of Chemical engineering. And this one became my permanent job."
Surely, Mishra Sir had Struggled all his life. And He is a successful professional now. Every aspirant student should learn many things from him.
Asking him about the three suggestions, he would give to the students of this generation, he answered, " Take It Cool! If problems come, it's okay, there must be a solution too. Don't overthink."During your college life, try to understand what are the qualities you possess..that would help you to choose the right career for yourself..." "And Secondly, enjoy your college life as much as you can" "And thirdly whatever you do, do it honestly, judiciously, and with utmost devotion..."
He is really a friendly and interactive person, with whom you will love talking to.

Further, he discussed his new initiative. Talking about the challenges he had to face, he told, "Firstly, absence of cooperation, secondly, lack of support, lack of understanding among the people.."
Asking him about the secret behind his cheerful nature, he said, "Be comfortable with what you have. Choose what you're interested in. So that you don't regret and you don't get bored with your environment."