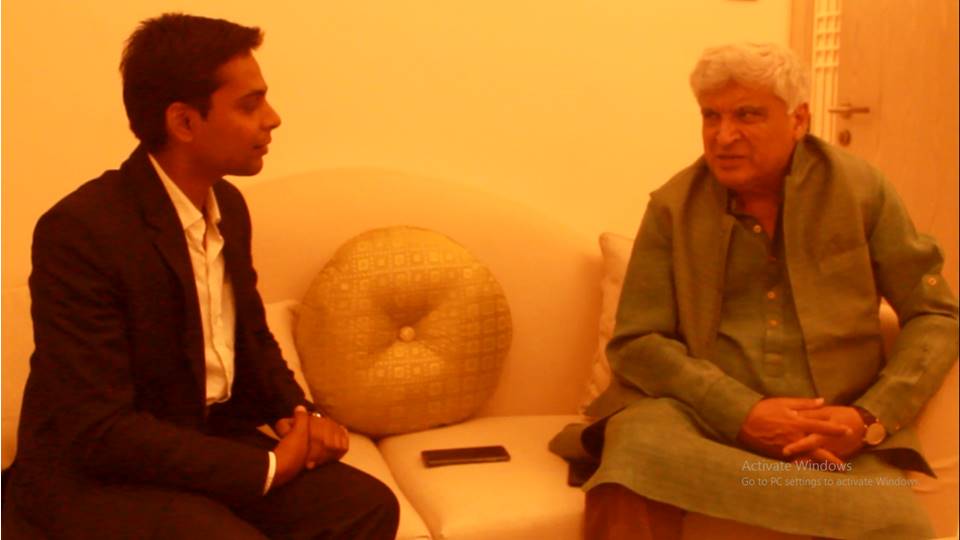 Category: Inspirational Stories
Published On: Aug 29, 2020 | Last Updated: Aug 29, 2020
---
When asked to shove azaan in the ears of the new born in accordance to Muslim tradition, Jan Nisar Akhtar had shoved the "Communist Manifesto" into the ears of Mr. Javed Akhtar.
Mr. Javed Akhtar was born in Gwalior in 1945 and was named as "jadoo" from the line of his father's poem and was renamed as Javed as it was closest to Jadoo. He was born to Jan Nisar Akhtar, an Urdu poet, a Bollywood songwriter and a communist party worker and Safia Akhtar, a singer, teacher, and writer. At an early stage in life, his father left him and his sibling alone with a struggling mother who had worked hard to raise them. At the age of 8, his mother died leaving him and his sibling in the care of his maternal aunt. It was then that he was schooled in Lucknow and then Aligarh and later graduated from Saifiya College, Bhopal.
He thereafter moved to Mumbai to chase his dreams with an empty pocket, hungry stomach, and wary body. He had no connection, no shelter, and no money to survive and sustained his life with the help of his 4 friends who helped him with essentialities of all sorts. He still acknowledges them and mentions being in touch with them.
He started his career as a clapper in the Bollywood movies after which he gradually rose to the position of a scriptwriter and started writing poetry. He had composed numerable poems and has written scripts for a plethora of Bollywood movies.
Despite such hardships, he excelled in the field of scriptwriting, Urdu poetry, Screenplay writing making himself a distinguished entity in his field amongst his contemporaries starting from his movie "Andaaz" in 1971 in collaboration with Salim Khan. This Javed-Salim duo had created many movies like Zanjeer (1973), Deewar (1975), Sholay (1975), and Don (1978).
He was felicitated with the Padmashree in 1999 and Padmabhushan in 2007. Later on 2013, he was also honoured with Sahitya Akademi Award in Urdu and Richard Dawkins Award in 2020. Alongside these awards, he has also been honoured with many national awards. He was also conferred an honorary doctorate by Jamia Hamdard University in 2019.
Mr. Akhtar believes the life to be a deck of cards and the cards being our circumstances, he emphasized their arrangement as our handling of our circumstances and new cards are drawn picked being the luck which may or may not be in our favour.
As a whole, he believes in the stable play of the game of life; neither too happy at the success nor too sad/depressed at the failure as happiness and failure both are part of our life.
From not accepting himself as successful to being extremely grateful to the people who helped him through his period of hardships, Mr. Javed Akhtar has depicted himself to be an epitome of humility and an extravagant example of the characteristic trait of artists representing any art form.
In an outline, Mr. Javed has lived his life and also advocates others to lead the life of idealness, contents and self-satisfaction; Mr. Javed Akhtar has established his trait of an ideal artist and has set himself apart.
Written By- Gokul Gopal Iyer
Click on the following links to know more about us
Facebook: https://www.facebook.com/ATEWorldTalk
Linkedin: https://www.linkedin.com/company/abhiprerana-ate-world-talk
You can watch inspirational interviews out on our YouTube channel also. Don't forget to press the subscribe and the notification bell icon: https://www.youtube.com/c/ATEWorldTalkAyushKeshri